Success Stories
The Sight Center Helped Me Continue To Do What I Love
New lease on life at 94, Mrs. Eugenia Peters
Have you ever met someone who becomes your friend just minutes into the conversation? Meet Mrs. Eugenia Peters. Mrs. Peters taught first grade for 28 years at the Harvard School in Toledo. Nine years ago, at the age of 85, she moved from the house her husband and she built in 1947 to Bowling Green to be near her daughter Betty Jean Anderson.
Mrs. Peters is a cook, loves to sew, and is an avid reader, but for many years she hasn't been able to continue to do the things she loved because of the low vision she was experiencing. She went to her eye care physician and he referred her to The Sight Center. The physician told Mrs. Peters, "The Sight Center has some tricks to show you."
Mrs. Peters and her daughter came to The Sight Center and after the evaluation took home two hand held magnifiers, lighting ideas, a jitterbug phone and a needle threader. Mrs. Peters said "It was like I was in the dark all the time and then suddenly I could see." Mrs. Peters expressed over and over again how wonderful it was to be able to do the things that she loves. Mrs. Peters is able to sew and she displayed several of the quilts and projects she is working on. She is back doing needlepoint and decided she is going to make a cookbook.
"It is so wonderful to be able to read again" said Mrs. Peters. She continued by saying "The small hand held magnifier allows me to read the Bible in bed, before I go to sleep." This is something that she had not been able to do for years. "When you can't see it, you can't do it."
"The Sight Center has done so many good things for me; I want others to know about it.", said Mrs. Peters. Betty Jean, Mrs. Peter's daughter reiterated that statement and said it has made a huge difference in allowing her mom to stay independent. She said that her mom continues to pay her own bills and with the new jitterbug phone she feels better about her mom's safety.
---
Jalen Ballard Places 3rd at National Braille Competition
Jalen is your typical nine year old, he likes technology, does well in school and teases his little brother. But Jalen has a talent that many us do not have, he knows Braille. Jalen participated in the National Braille Challenge in Los Angeles, California at the Braille Institute on June 23, 2012.
Contests include reading comprehension, braille speed and accuracy, proofreading, spelling and reading tactile charts and graphs. More than 900 students from first through twelfth grades participated in the Preliminary Round. The top-scoring 60 went to LA for the Final Round—two days of competition, camaraderie and fun!
This is Jalen's 3rd year competing in a regional competition and qualifying for nationals, but it's the first time he's placed in the top 3 nationally! His third place finish won him a $500 savings bond!
The National Braille Challenge gave Jalen a chance to meet other children who are blind from all over the United States and Canada. He has made some friends that he communicates with via email and/or Skype. He's found other kids who have similar interests as he does and is able to open up and talk to others! He feels at ease knowing he's around other kids "just like him."
Jalen also won 1st place in this year's Ohio Braille Literacy Creative Writing Competition hosted by Ohio State School for the Blind.
Click here to see live footage of the event and read more about it.
---
Summer Transitional Employment Program (STEP)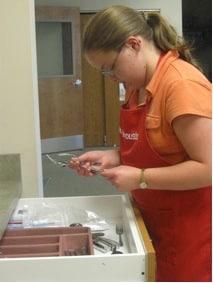 Gabi from Findlay couldn't believe the description of her personality after participating in the Myers Briggs assessment. She said, "That is me exactly!" James, from Curtice, explained to board member Tim Tegge, the many different applications he uses on his iPad and iPod to make everyday skills so much easier. Makayla, who works at The Andersons, said she had a great day at work. She and her job coach worked on some new displays.
The Sight Center of Northwest Ohio was delighted at the success of the Summer Transitional Employment Program (STEP). This program is offered to transition age youth through the Vocational Rehabilitation (VRP3) program. This year 14 visually impaired students participated in the four week program. The STEP program provides unparalleled opportunities for the students to develop their employability, job seeking, life and leisure skills.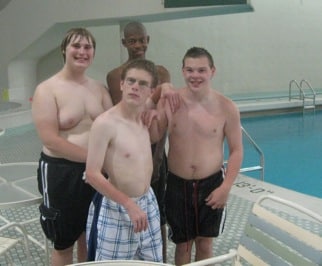 Students in the program are paired with a job coach for their community based employment. Community partnerships were developed to offer placements at local businesses such as: The Andersons Inc., McDonald's, West YMCA, the Area Office on Aging, Over the Rainbow Early Learning, Apple Tree Nursery School, Nemsys, LLC and The Eye Institute of Northwestern Ohio. These businesses offered opportunities for students to participate in tasks such as: building a computer to custom specifications, leading a group of children through activities, answering telephones, cooking on "the line," landscaping, and various other tasks. In addition to these valuable experiences, the participants were thrilled to earn a paycheck and have their own money to spend.
Classes in professional development were also provided including topics such as how to apply for a job, complete a resume, participate in a job interview, and guidelines for professional behaviors on the job. Guest speakers provided information on interest assessment (Myers Briggs), self-advocacy, disability disclosure, social security, and personal budgeting. Informational interviews were offered when possible so that participants could interview professionals in their field of interest.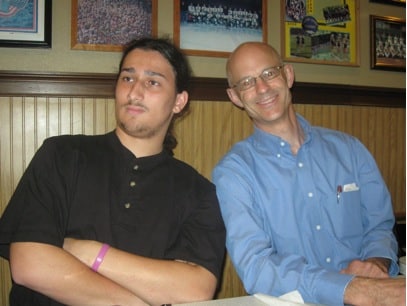 Independence in Daily Living Skills was emphasized with students living in the dormitory at the University of Toledo, cooking their own meals while at The Sight Center, and shopping for food in the community. Lessons were also offered on clothing care, cleaning, and basic home management. In the evenings, the students were offered experiences of dining in various settings throughout Toledo including a family style service, a buffet, and fine dining.
Follow us on Facebook
https://www.facebook.com/The-Sight-Center-of-Northwest-Ohio-146356228726482/