Fog Eliminator Cloth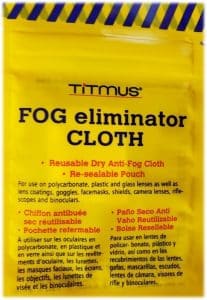 Eliminate foggy lenses and support a great cause at the same time! A portion of each sale supports The Sight Center of Northwest Ohio.
his reusable, dry anti-fog cloth comes in a re-sealable pouch and is great for use on:
polycarbonate lenses
plastic lenses
glass lenses
goggles
facemasks
shields
camera lenses
binoculars
*Price:  $3.50 + free domestic shipping. Call for bulk pricing.
Shop ONLINE, call The Shop at 419-720-3937 x3805 or email theshop@sightcentertoledo.org.
* This Item is not returnable.