SAVE THE DATE for a day of fun and awareness!!
Saturday, September 16, 2017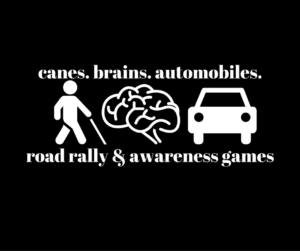 Canes, Brains and Automobiles, formerly known as the White Cane Walk, is part Road Rally, part Olympics and ALL FUN!!  The Sight Center is "calling all cars" but we're also calling all who want to help empower people who are blind or visually impaired.  We need your help to raise awareness and money that help people work, learn, play and live independently with permanent vision loss.
The event will take place the morning of Saturday, September 16th at The Sight Center in Toledo.  Road Rally teams will consist of a navigator who is blind or visually impaired and a driver who is not.  Navigators will be provided with Braille, large print or audio directions.  Working together, the teams must use their brains to unravel the clues and find their way to the finish line.  Prizes will be awarded to the winning team, the coolest car and more.
Folks not wishing to participate in the Road Rally can compete in The Awareness Games which will take place at The Sight Center that same morning.  Touch, smell, taste and feel your way to gold, silver and bronze awards in this family-friendly event.  The day will end with a cookout and presentation of prizes.
Click here to register.